UPCOMING SHOWS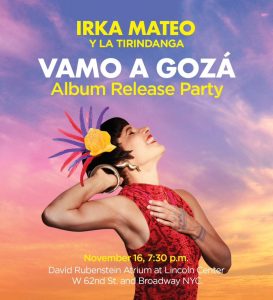 Album Release Party – Nov 16., 7:30pm
David Rubenstein Atrium @ Lincoln Center (W. 62nd St & Broadway, NYC)
Album Release Party – Los Angeles (TBA)
Album Release Party – Santo Domingo, Dominican Republic (TBA)
Album Release Party – Santiago, Dominican Republic (TBA)
BIO
Irka Mateo is a singer songwriter and performer from the Dominican Republic. She was part of Irka &Tadeu and Irka con Bohuti before leading La Tirindanga, her latest project. Currently she writes "Mestizo Music," accordion and guitar-lead songs inspired by the indigenous/ Afro/ European folk traditions of her native country, as well as the wider Caribbean and Latin America.
Irka travelled for ten years in the rural areas of the Dominican Republic documenting more than thirteen genres of folk musical traditions–unknown to the wider Dominican culture and beyond. As a result, her extensive field research was recognized by the Grammy Foundation, which awarded a "Preservation Implementation" grant, allowing her research to be donated to the Dominican National Archives as well as to the Ethnomusicology Archives at Wesleyan University in the United States.
Irka introduced the Dominican accordion into the Dominican/Latin alternative scene. She has brought to light the 'Comarca,' a wholly unknown genre outside of the countryside and was the first woman to play traditional percussion in urban settings.
Irka's first solo album "Anacaona" reached the Top Ten Latin and World Music Charts in the United States, Canada and Europe.
Key Performances from around the world:
Colombia: Mercado Cultural del Caribe; USA: Joe's Pub, Ford Theaters, United Nations Headquarters, United Palace, Subrosa, Smithsonian Institution, National Museum of the American Indian, Louis Armstrong Museum; Mexico: Festival de la Primavera, Teatro Benito Juárez, Festival del Caribe; Caribbean-Cuba: Festival del Fuego; Canada: Montreal Jazz Festival (3 Editions), Ottawa International Jazz Festival, Festival Cultures Canada, Hull Jazz & Blues Festival, Multi-Montreal World Music Festival, Rimouski Jazz Festival, Baie Comeau Jazz Festival, L'air Du Temps, Club Balatou, and Tour Montreal Maisons de Culture; Haiti: Opened for The Fugees and Cafe Des Arts; St. Kitts: Carifesta VII, St. Kitts; Dominican Republic: Opening Bienal de Artes Visuales, Museo de Arte Moderno, Heineken Festival
LYRICS
Pecao Aciguatao


(Music and Lyrics: Irka Mateo)
En los meses mayo junio
julio agosto no me den
peje que jala en orilla
que no me lo vua come
Yo te hablo e la colirubia
el pargo, el chillo y el jabón
la temible cojinua
esa ni la miro yo.
Aciguata no quiero ta
ay envenena, que no, que no
(x 4)
Tampoco quiero en mi mesa
de lo peje'l mar azul
el jurel cola amarilla
la picua o el atún
Que no quiero yo acaba
como el compadre envenenao
por come deso pecao
que taban dando regalao.
Aciguata no quiero ta
ay envenena, que no que no
(x4)
No me venga con sermón
que tiene mucho limón
o que lo jervit'en leche
que no me lo vua come
Lo pecao aciguatao
los conozco yo muy bien
se le caen tó las escamas
ni lo gato lo quien.
Aciguata no quiero ta
ay envenena, que no que no
(Bis x4)
Subscribe to receive updates: